Sole proprietor accounts are established for Ukraine-registered individual entrepreneurs to receive income in euros via SEPA transfers. You can access your account anytime - whether from Ukraine or abroad. What is more, you will be able to transfer money and make payments using Genomes physical and virtual Visa cards and have a currency exchange function.


To get the sole proprietor account, you first need to start a personal wallet:
1. Sign up to Genome using your email or phone number;
2. Fill in the personal details about yourself;
3. Complete the verification process - you will need a document to confirm your identity and record a quick video selfie. A detailed guide on how to complete verification is available here.


After accessing your personal wallet, you can start a sole proprietor account:

Log in, go to the Personal accounts tab and click the + button. It will allow you to open a new account for a sole proprietor. Before doing so, choose the currency - EUR, USD, or GBP. Please note that you can only receive funds in euros.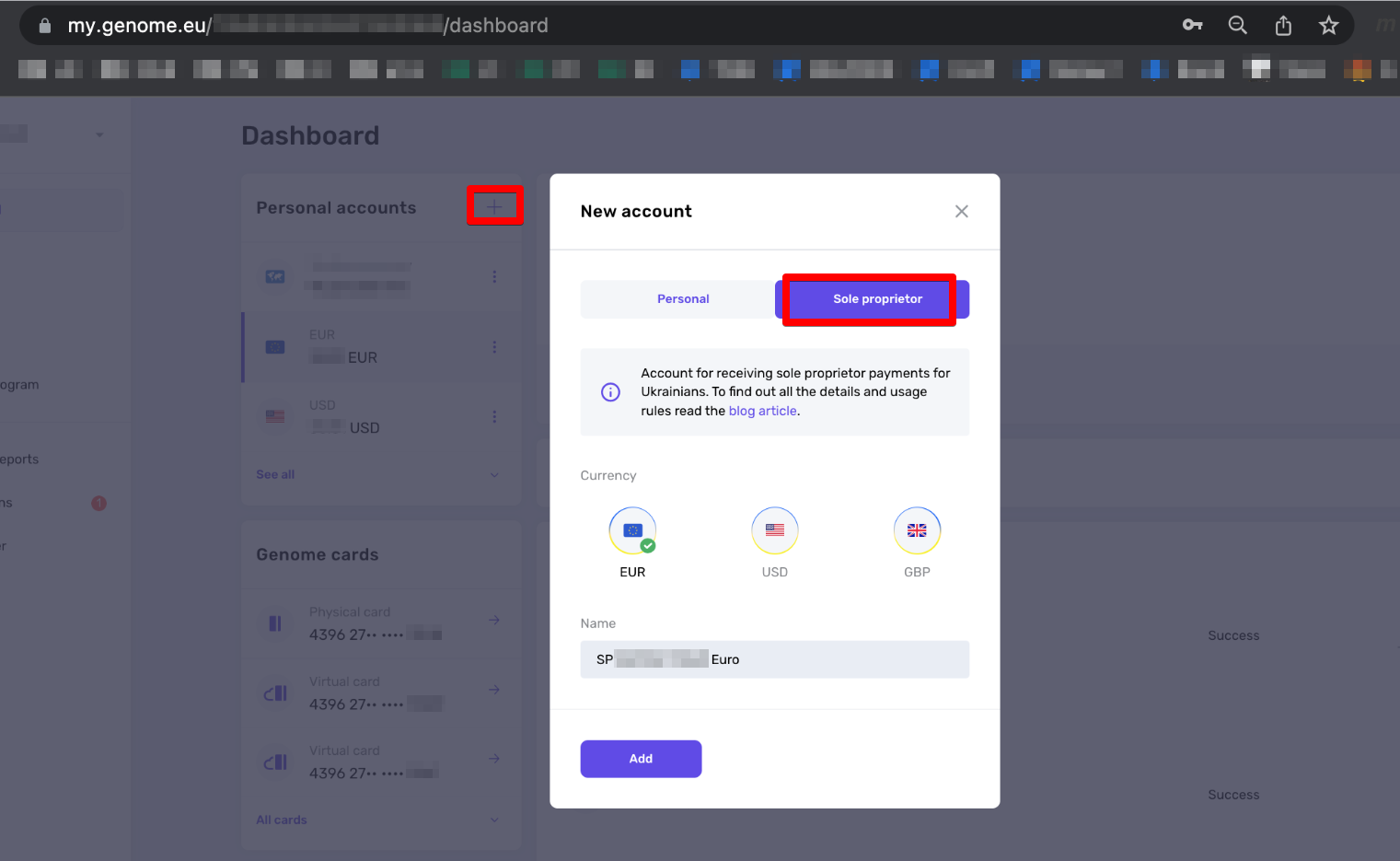 To receive money, you will need to provide the sender with account details. Here is how you can find them:
Go to the Top up menu from your dashboard;
Choose the sole proprietor account and click the Account details button;
Regarding money transfers:
You can transfer money from your sole proprietor account to other banks using SEPA transfers. Make sure your bank supports SEPA transfers and works within the SEPA zone;
You can use Genome instant transfers to send funds from your sole proprietor account to other Genome wallets and between all your Genome accounts.
When receiving funds to your sole proprietor account, save the EUR to the hryvnia exchange rate of the National Bank of Ukraine. You will require this information for financial statements.
You can not make donations using your sole proprietor account.
How to make card payments:
Genome allows users to order virtual and physical debit cards for online and on-the-go payments. All the cards are Garmin Pay, Apple Pay, and Google Pay compatible.
You can use the virtual cards instantly after you order them - pay online or with your phone at stores. A detailed guide on how to order the card is available here.
As for physical cards, for now, we deliver them to all the EU countries. With them, you can pay at any place that accepts Visa cards.
You can use the card that is linked to the sole proprietor account to pay for everyday expenses.


If you have any difficulties or questions, please contact us at support@genome.eu