You can check the bonuses of the referral program on the left dashboard of the main screen, the 'Referral' section. Additionally, all transactions from the referral program are available in the 'Transaction history' on the 'Dashboard' page. Please draw your attention, that you will start receiving bonuses from the referral program only after your referee will open and fully verify the account at Genome and will start actively using it. Affiliate's bonuses are 10 % and are to be calculated depending on Genome Services used by the approved clients referred to Genome by such affiliate. The services included in the referral program are as follows: initial EUR IBAN account opening, outgoing and incoming bank transfers, currency exchange. The bonuses payments will be made to the Genome wallet of the referral within ten (10) business days after the end of reporting month.
Referral bonuses in the desktop version:

Referral bonuses in the mobile app: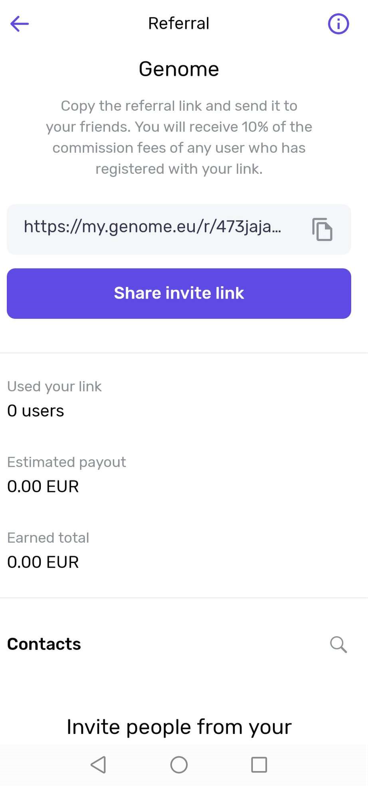 If you already have an account at Genome, sign in to your account and start inviting friends!
If you don't have an account at Genome yet, you can easily sign up here and start inviting your friends to join Genome as well!